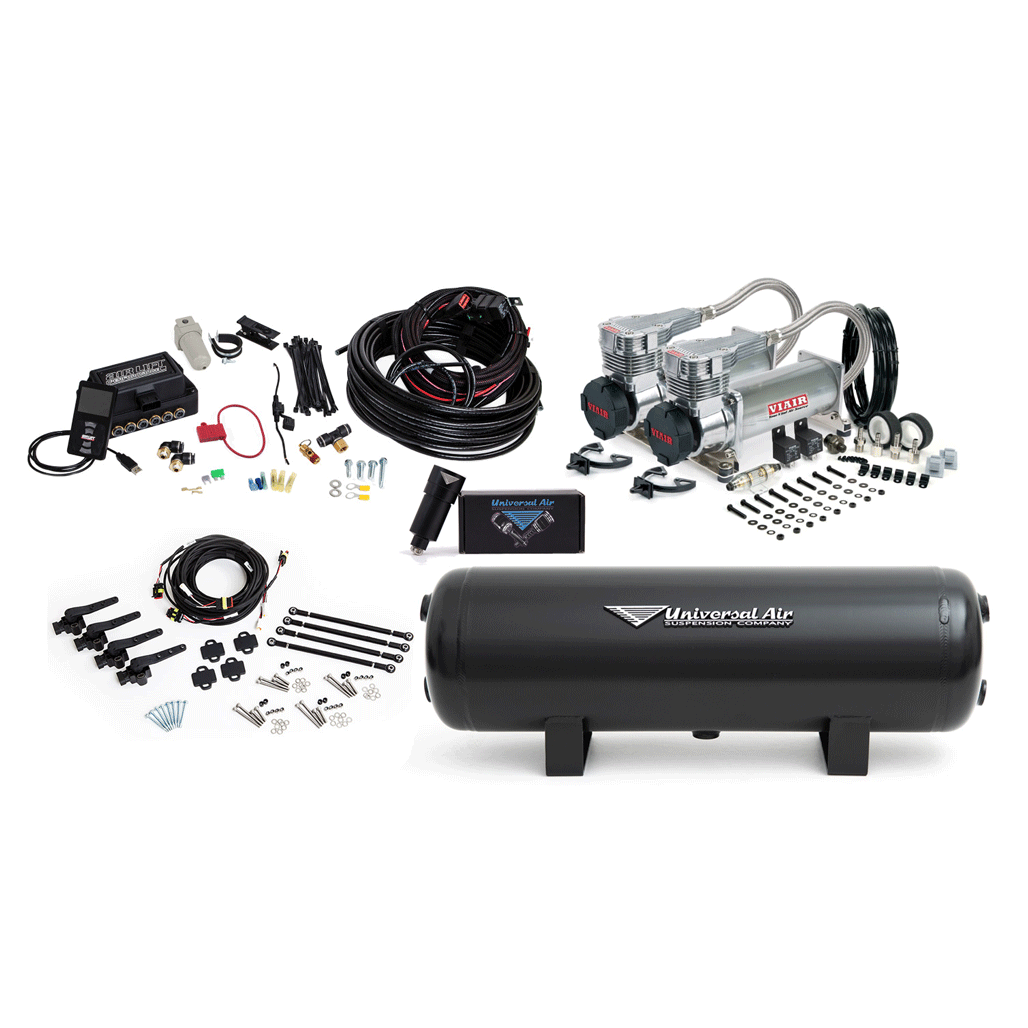 Airlift 3P/H Air Management Package
THREE PROGRAMMABLE VALVE ADJUSTMENT SPEEDS PRECISE / MODERATE / FULL.
The SwitchSpeed™ Controller offers all of the standard functions that you've come to expect from a traditional switchbox, but that is where the similarities stop. AccuAir's proprietary Advanced Burst-Control Technology™ allows you to choose between three different modes of adjustment; Precise / Moderate / Full Speed.
Handheld or mountable, the SwitchSpeed™ Controller is available in black-anodized or nickel-plated aluminum and gives full manual control over each Air Spring individually as well as front and rear Air Spring control in "pairs". A yellow glowing ring around each button clearly indicates the current valve speed. The "All-Down" button fully deflates the vehicle for parking at your currently selected speed. Every button offers a "crisp" tactile feel and is back-lit with crystal white LEDs for clear daytime and nighttime operation.
The SwitchSpeed™ Controller comes with a built-in compressor control feature that is automatically enabled once the optional tank pressure sensor is plugged in.
High quality weather-proof plug-n-play harnesses make for fast and accurate wire connections that will last in the harsh under-vehicle environment. All harnesses get 100% tested prior to shipment to assure proper operation in the field.
Specifications
Tank

4 Gallon Black Aluminum

or

4 Gallon Silver Aluminum

or

None

or

3 Gallon Aluminum

or

4.5 Gallon Aluminum

or

5 Gallon Aluminum

Compressor

Single Viair 380

or

Single Viair 400

or

Dual Viair 380 Chrome

or

Dual Viair 380 Black

or

Dual Viair 400 Chrome

or

Dual Viair 400 Black

or

Dual Viair 444 Chrome

or

Dual Viair 444 Black

or

Dual Viair 480 Chrome

or

Dual Viair 480 Black

or

Dual Viair 485 Platinum

or

Dual Viair 485 Black

Airline Size

1/4"

or

3/8"

Height Based

No

or

Yes